Introduction:

In the realm of wearable technology, Apple Watches have taken the lead with their blend of functionality and style. One of the most sought-after iterations is the Apple Watch in gold, exuding luxury and elegance. At WristWatchStraps.co, we understand the importance of personalizing your Apple Watch to reflect your unique taste. In this article, we will delve into four captivating topics: the allure of the Apple Watch band in gold, the step-by-step process of removing the Apple Watch case, the intriguing pricing of gold Apple Watches, and the perfect bands that complement a gold Apple Watch. Elevate your wrist game with our insights and recommendations.
Apple Watch Band in Gold: A Touch of Opulence:

The Apple Watch band in gold epitomizes sophistication and opulence. Its radiant hue effortlessly catches the light, turning heads wherever you go. At WristWatchStraps.co, we offer a diverse collection of gold bands crafted from premium materials like stainless steel, genuine leather, and silicone. These bands not only exude luxury but also offer comfort and durability. Whether you're attending a formal event or a casual outing, the gold Apple Watch band from our collection is designed to make a statement and elevate your wristwear to new heights.
Steps for Removing the Apple Watch Case: A Quick Guide.  

Removing the Apple Watch case might seem daunting, but with the right guidance, it's a simple process. Start by ensuring the watch is powered off. Gently place it on a clean, soft surface to prevent scratches. Use a case opening tool or a flat, non-abrasive tool to carefully separate the case back from the watch. Work your way around the edges until the case back pops off. Take care not to damage the internal components. This process allows for battery replacement or customization without compromising the watch's integrity. If you're unsure, it's best to seek professional assistance.
Why Does the Gold Apple Watch Cost So Much More?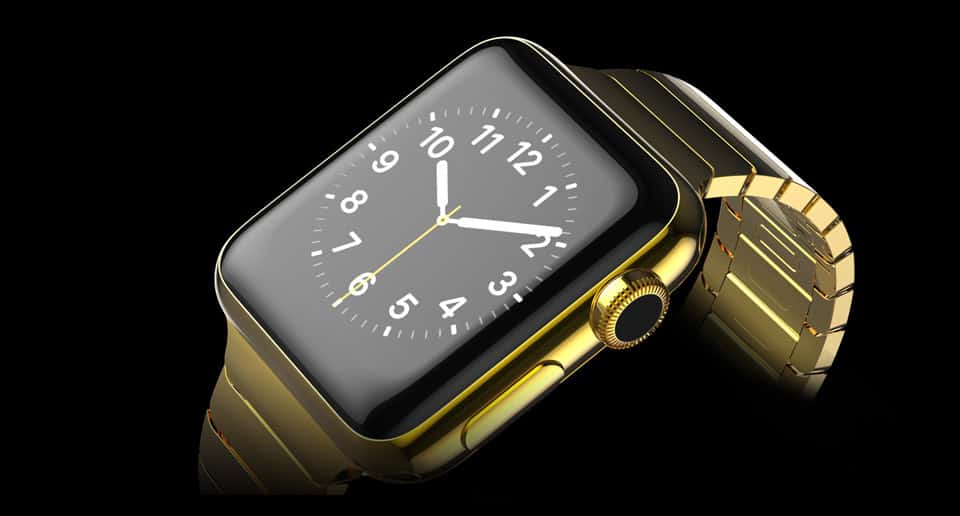 The allure of a gold Apple Watch extends beyond its appearance. The higher cost of a gold Apple Watch can be attributed to the meticulous manufacturing process. Crafting the perfect gold casing involves precision engineering and a significant amount of the precious metal. The casing is subjected to rigorous quality control to ensure its durability and resistance to wear. Additionally, the exclusivity of owning a gold Apple Watch adds to its value. At WristWatchStraps.co, we believe in offering our customers the best, and our collection of gold bands resonates with the luxury and craftsmanship that Apple enthusiasts seek.
Complementing Your Gold Apple Watch: The Perfect Bands  
Pairing your gold Apple Watch with the right band completes your style statement. Our collection offers a variety of options to suit different occasions and personal preferences. For a formal event, a stainless steel link band adds a touch of elegance. On casual days, a leather band provides comfort and versatility. If you lead an active lifestyle, a silicone sports band strikes the perfect balance between functionality and style. Alternatively, a woven nylon band can add a pop of color and texture to your ensemble. The key is to choose a band that resonates with your style and enhances the inherent charm of your gold Apple Watch.
Conclusion:
As you embark on your journey to redefine your Apple Watch experience, WristWatchStraps.co stands as your companion. The gold Apple Watch band, with its captivating radiance, offers an instant upgrade to your wristwear. Remember, personalization extends beyond aesthetics, and with our guide on removing the Apple Watch case, you can embrace both form and function. The premium price of the gold Apple Watch is a testament to its impeccable craftsmanship and the exclusivity it brings to your collection. Enhance your style further by exploring our selection of bands, each meticulously designed to harmonize with your gold Apple Watch. Connect with us on social media and embark on this exciting journey with WristWatchStraps.co.
Contact Us:
Connect with us on social media:
Instagram: [https://www.instagram.com/wristwatchstraps.co/]
Facebook: [https://m.facebook.com/p/Wristwatchstrapsco/]
YouTube: [https://www.youtube.com/@wristwatchstrapsco]
TikTok: [https://www.tiktok.com/@wristwatchstraps]
For inquiries and assistance, feel free to reach out to us through the provided links. Your journey to the perfect Apple Watch band starts with WristWatchStraps.co.